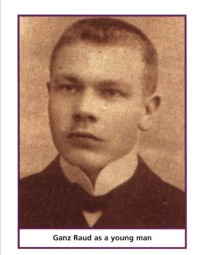 ECM has been involved for more than a hundred years in spreading the Gospel in Europe. What began with one man's call received at an all night prayer meeting in Estonia has now become a mission involving hundreds of people. All over Europe.
The origins of European Christian Mission stretch back to the year 1904. A young man named Ganz Raud was called by God during an all night prayer meeting to reach Europe once more with the Gospel. He began by travelling to Britain where he spoke everywhere about the need in the continent of Europe.
The 1905 Russian Revolution and the First World War forced Raud to leave for the United States. There he slowly built up a network of people who shared his vision and in 1920 the first office was opened in New York. Offices in Toronto and London were also established in the years that followed.
By 1923 there were 55 missionaries working for ECM in Europe. In 1927 that number had grown to 81 with 250 volunteers. After the Second World War an ECM office was opened in Paris. Raud died in 1953, but the organization still continued to grow after his death.
Today ECM has more than 200 missionaries active in 23 different countries of Eastern and Western Europe. From indigenous communities in Northern Sweden to the sunny beaches of the Algarve, from developing Albania to the developed West, from big cities to rural communities, and from centers of tourism to forgotten villages, ECM is involved everywhere in the mission which God began through Ganz Raud more than a hundred years ago.
Europe is not a God-forsaken continent. The light of Jesus Christ is still shining.