Refugees: Crisis or Opportunity?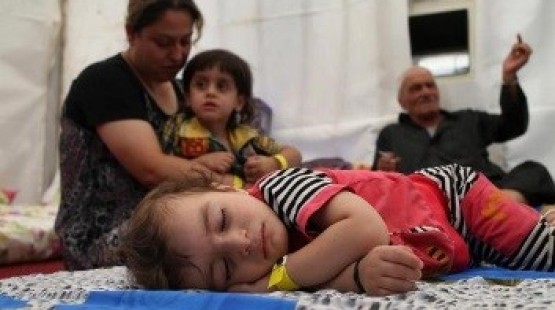 Monday 17 October 2016

13:35
The refugee crisis in Europe continues ... and tearing at the hearts of those around the world are images of young children, mothers and the elderly who in their attempts to find their way to places of peace and prosperity in Europe, end their lifeless journeys washed up on the beaches of some foreign soil.
CNN estimates 4.1 million registered Syrian refugees live in Turkey, Lebanon, Jordan, Iraq and Egypt. Many of those have more recently been flooding the entry points of Europe through Turkey and Greece. But the story of the refugee is not a new one. Throughout its 111 year history, ECM International has been assisting and ministering to refugees who have been displaced by war and economic crisis.
ECMI missionary Vimal Vimalasekaran has been working among refugees in Germany for several decades now. As Vimal likes to say, "Jesus was a refugee!" Vimal himself came to Christ in a refugee camp. He and his wife Louise have a real heart for those displaced by war, pestilence, and poverty. While the rest of Europe struggles with this new wave of refugees, Germany is prepared to receive nearly 500,000 this year alone (The Guardian). Vimal and Louise are strategically positioned to minister to these refugees whose initial entry point is the refugee center in Karlsruhe.
ECMI is uniquely positioned to help and assist the churches of Eastern and Western Europe minister to this new influx of refugees. ECMI missionaires are on the ground assessing the situation and exploring ways to meet the physical and spiritual needs of these refugees as ECMI has done so many times in the past.
You can help through your prayers and gifts. Would you ask the Lord how He wants you to be involved? If you wish to make a financial gift toward refugee ministry, you can respond by clicking on the link Donate Now. Thank you for partnering with us in the sharing the love of Jesus in Europe. You are making a difference!

To see how ECM-Britain is responding to the refugee crisis, please select this link to their website.