Shining light into the darkness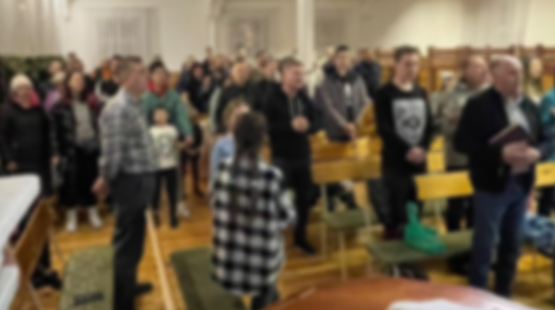 Monday 28 March 2022

14:27
Even in the darkest days, ECM workers, along with many Christians in the country, keep working to share the light of Jesus. Read the last update we received from one of the ECM churches hosting and serving refugees in western Ukraine.
"Yesterday we decided to look through the list of refugees who have stayed in our church building from the beginning of the war, and we are so glad that more than 1100 people have stayed with us so far. Some for one night and some for few, some still continue to live in the church building and with other families from our church.
Praise the Lord last week some brothers from our church bought wood and built 20 bunk beds, so now all these people can sleep on the beds and not on the floor. We continue to have prayer meetings every evening for 30 days in the row. This is so special to gather with people from all over Ukraine and worship and pray together. At the end of every meeting we have a special prayer for those who want to accept Jesus as their Saviour. People are so open and want to hear the Good News. We are so blessed to be able to serve as we can. Please continue to pray for us."
🙏🏼 We continue holding special prayer meetings for Ukraine on Tuesdays and Saturdays, you can join us (contact us for the details).
💸 You can also donate and help ECMers feed and host refugees. https://www.ecmi.org/en/ukraine-crisis-fund