Welcome to New Hope ministry in Bulgaria!
You can play a part in communicating the love of Jesus Christ to the Bulgarian people.
Areas of Ministry include: Church Leadership Training, Refugee Outreach, Youth Outreach and Family MInistry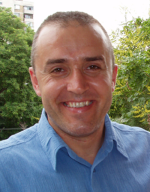 New Hope Bulgaria is New Hope's most recent office and Dimitrie Todorov and his small team are determined to make a difference in Bulgaria for Jesus Christ. Focusing the majority of their time and attention on family and youth ministry, New Hope Bulgaria is training church and Sunday school teachers to effectively reach people for Christ. The team also strives to multiply the number of those involved in ministry to reach even more of their citizenry. Dimitrie and his team are also working with churches in the U.S. to start a family ministry to offer help and empowerment to families in Bulgaria. By reaching out and bringing Christ to family units, New Hope Bulgaria believes that the very fabric of society within the country can be changed. Despite the newness of the Bulgarian ministry, they are seeing lives transformed and hearts changed!
"The fish are many – we now need fishermen to catch the fish," says Dimitrie. "Less than 3% of the Bulgarian population is evangelical. We need to work hard, pray, and trust the Lord to give us more fishermen to catch our fish."